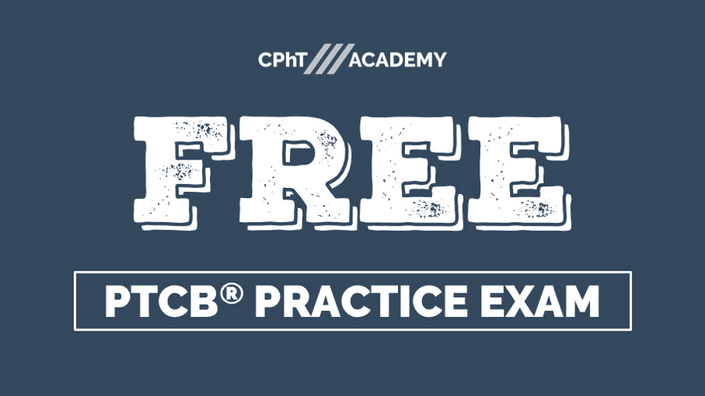 FREE PTCB Practice Exam for 2023
Enjoy our full-length practice exam for FREE!
***BASED ON THE NEW PTCB EXAM CONTENT OUTLINE***
(EFFECTIVE JANUARY 1, 2020)

Register with your email address to take our full-length PTCB practice exam for FREE! To reflect the format of the official PTCB exam for 2020 and beyond, our practice exam contains ninety computer-based multiple choice questions and a timer for 1 hour and 50 minutes. You must get at least sixty-three out of ninety questions correct to earn a passing score. As with all of our content, the questions and answers were written by a pharmacist to reflect the current PTCB exam content outline (effective January 1, 2020). Rest easy knowing the questions and answers are accurate and relevant for the current exam. Enjoy, and thank you for visiting CPhT Academy!

Program Content
Free Practice PTCB Exam
Available in days
days after you enroll
Disclaimers and Copyright
No part of the official PTCB exam may be copied or reproduced by any means. For that reason, this practice exam does not contain actual PTCB exam content. PTCB is a registered trademark of the Pharmacy Technician Certification Board. The Pharmacy Technician Certification Board does not endorse this product. Copyright © 2023 by CPhTAcademy.com. This practice exam is protected by copyright laws. Do not copy or reproduce this content by any means. By enrolling for the FREE PTCB Practice Exam, you agree to receive e-mails regarding other offers from CPhTAcademy.com and/or its affiliates. You may opt out of receiving these e-mails at any time.